Vol. 2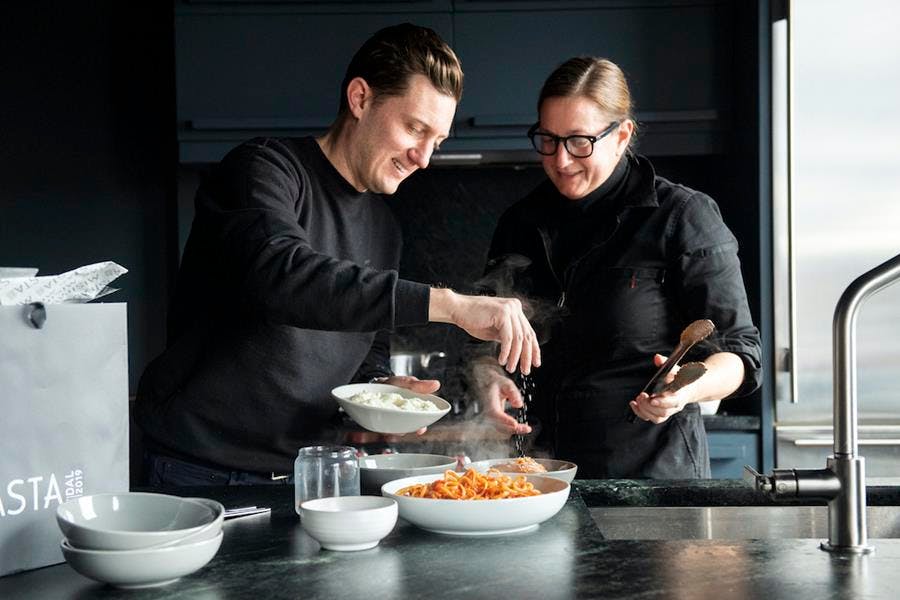 Photo credit: Evan Sung


Welcome back to QB!
It's been an exciting start to the month as we've realized a long-standing dream of ours with the launch of Misipasta. Through scheduled weekly drops at Misi, we will release bags that contain Missy's fresh pasta and sauce, along with an instruction card.
Cooking together over the years has made one of us a better cook (guess who), introduced us as neighbors, solidified our friendship, and provided the foundation of Grovehouse.
We want Misipasta to give you the confidence to create inspiring experiences in the warmth of your kitchen with the ones that matter the most.
Follow @misipasta on Instagram to keep up with drop details and our journey.
Choose Pasta,
Sean & Missy
We want to see your #saltwaterpasta creations! Be sure to tag @misipasta when you post.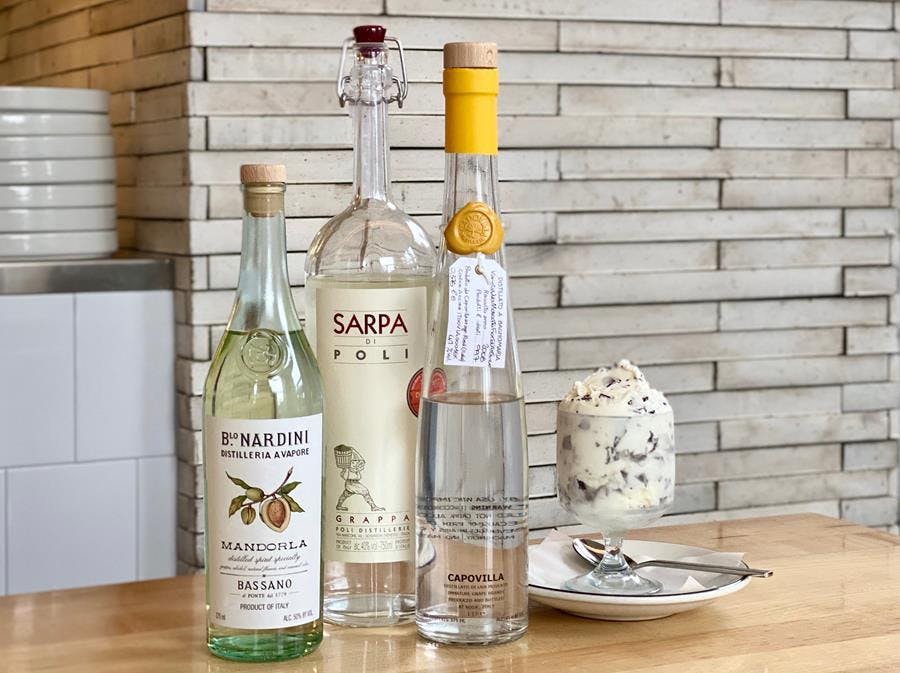 Photo credit: Rachael Lombardy
Contrary to popular belief, a taste for grappa is not so hard to acquire. The liquor is made from distilling pomace—the skins, seeds, pulp, and stem leftover from winemaking. Italy's top grappa houses are focused on distilling single grape varieties, yet there are many grappa-based liquors that are wonderful as digestivi.
While not everyone is destined for the love affair with grappa that Missy Robbins has, we recommend a few starter grappas for those dipping in for the first time.
Milla Marolo is infused with chamomile for a floral and slightly sweet flavor. Grab a bottle.


For an immensely smooth, pure grappa, keep an eye out for Poli Sarpa.
— Eliza Christen, Grovehouse Beverage Director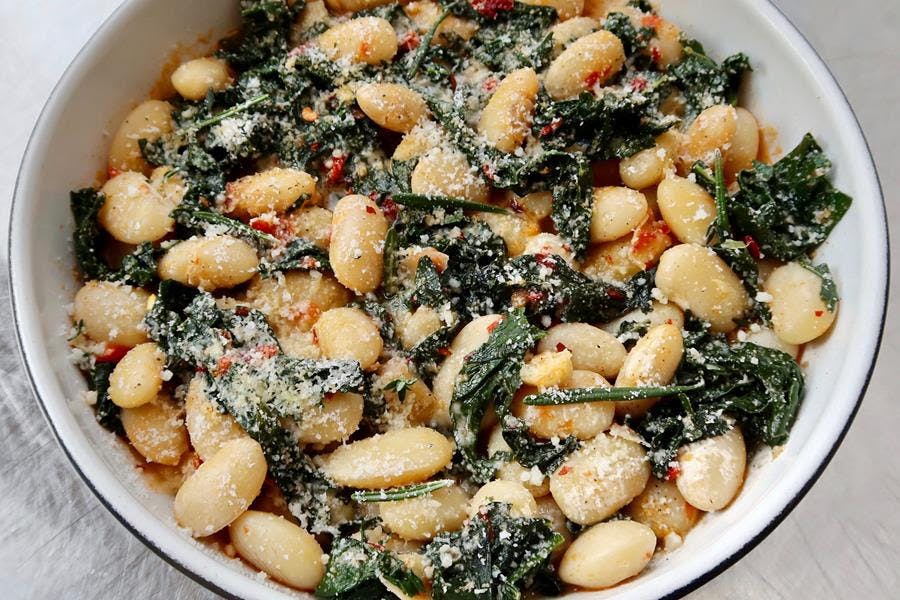 Butter beans with Calabrian chilies, Tuscan kale, and Pecorino at Misi.
Photo credit: Rachael Lombardy
For over a decade, Buon'Italia has been my #1 partner in procuring the best of Italian products essential to my cooking at Lilia and Misi. They are responsible for delivering our pasta flour, vinegar, anchovies, and chickpeas, the Sicilian nuts that go in everything from vegetable dishes to our gelato, as well as Corbari tomatoes (even better than San Marzanos), specialty olive oils, and the ever-important Calabrian chilies produced by the Tutto Calabria company.
Buon'Italia is a family business that has been importing Italian goods since the '70s. The Magliulos had difficulty finding authentic products so they started bringing in fresh fish, vegetables, and cheese from Italy to sell to restaurants, eventually adding fresh pasta and ravioli, which they would make in their apartment. Over the years, they expanded their arsenal and in 1995 moved into their brick-and-mortar store in New York's Chelsea Market.
My cooking has evolved to a place of such simplicity that I aim to highlight just a few key ingredients in every dish. With that goal in mind, it's imperative that each ingredient counts, has the right profile, and stays consistent. I can't imagine what my food would taste like without these staples, so I am grateful for what they bring to the table, so to speak.
— MR
P.S. Stock up on my favorite crushed Calabrian Chilies here.


Photo credit: Evan Sung
In other news...

Missy's collaboration with Tilit is now on sale. Get your Tilit x Missy Robbins long sleeved jumpsuit here.
Missy and Sean talk with Brian Koppelman of Billions about the pivotal moment in their creative careers. Make yourself a Negroni while tuning in for the optimal listening experience. [The Moment]
Our monthly gift to you? Lilia's first-ever playlist: "Anti Agita"

If you're liking QB so far, spread the love by forwarding it to your friends. We'd love to hear any feedback you have.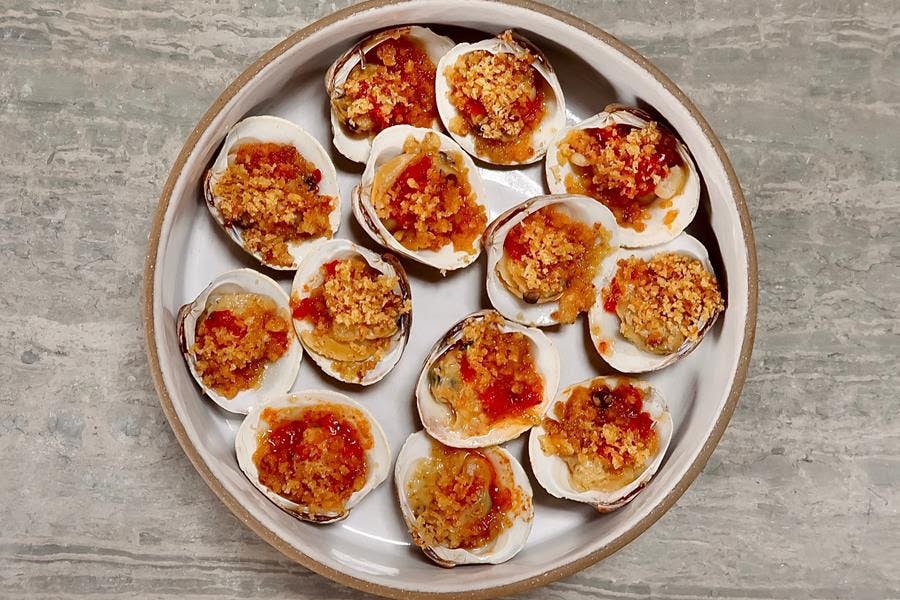 Lilia's grilled clams with Calabrian chili and breadcrumbs.
Photo credit: Rachael Lombardy
Calabrian chili vinaigrette
At Lilia, we use this vinaigrette on the grilled clams, but it is also my go-to for vegetable and fish dishes. It's got high heat, high acid, and a floral note from the citrus zest.
— MR
1/2 cup crushed Calabrian chilies, drained from oil and chopped very fine
Zest of one lemon, chopped fine
Zest of one orange, chopped fine
1/2 cup olive oil + 1 TBS drained chili oil
Juice of 1 lemon
Juice of 1 orange
2 garlic cloves, chopped fine
Combine the chilies, lemon zest, orange zest, garlic, and oil into a bowl and mix well.
When ready to use the vinaigrette, add the lemon juice and orange juice so it stays as bright as possible.
Don't forget to share your Calabrian chili vinaigrette on Instagram by tagging @missyarobbins and using the hashtag #KeepItSimple.