Family Meal: "Hello! How are you? We are glad to see you!"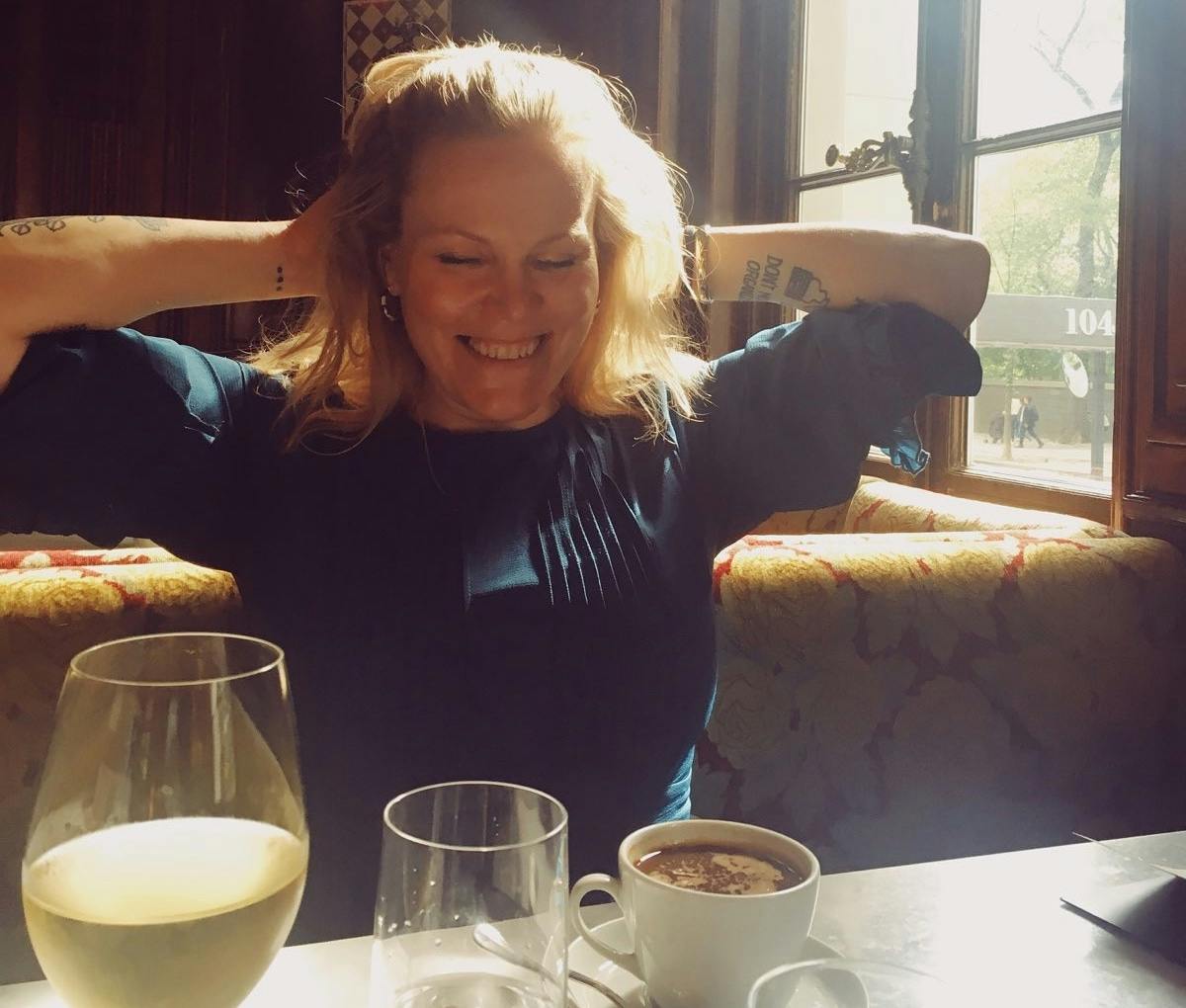 Alicia Blegen, General Manager at Lilia
The youngest in a tender-hearted family with eccentric interests, Alicia Blegen is from a village in northern Wisconsin. Her previous life was academic, studying at the University of Wisconsin and NYU. Since 2009, Alicia has worked in restaurants (as part of four opening teams). She joined Lilia in December 2015 and became the GM in March of 2016; she still pinches herself.
"Hello! How are you? We are glad to see you!"
It may come from a host, a runner, a captain, a manager, or a somm, and it is often accompanied by a handshake or a hug.
"Hello! How are you? Thinking about you. Are you okay? Need anything?"
This is how our regulars, neighbors, and friends have been reaching out in the last three weeks; the outpouring of genuine concern and care shines brightly during dark times. Thank you, so much, for seeing us, for supporting us.
I used to believe that restaurants were spaces of community uplift disguised as businesses. Since Lilia temporarily closed due to COVID-19, I revise my statement: restaurants are uplifting communities; they may have started in a physical space but they are not confined to them. Love always finds a way. I saw this first when opening restaurants in Bed-Stuy in the early days of gentrification. But it is no less true of Lilia in 2016 or 2020. Helping guests navigate personal and public change is an unspoken function of restaurants; we are there for special occasions, promotions, meeting the in-laws, national elections, and local tragedies. Guests who enter as strangers leave as friends. The best restaurants reassure you and lift you up through service, food, and wine. They transport you away from your troubles so that suddenly things seem bearable. You go back into the world a little more relaxed, hopefully smiling, with a spring in your step. You may forget how it got there, but you will carry it with you. Restaurants change the world.
Hospitality, with its disarming grace, turns a wood-fire grill into a hearth, and a large-windowed dining room into a home. The team's charm, wit, and soul are ingredients that cannot be written into the recipes. Our professional lives are spent tending to the needs of others, making guests feel safe, comfortable, and at ease. Yet nothing in our service manual could have prepared us for this very strange, surreal, and seemingly dystopian time. The cumulative anxiety of the restaurant, the city, and the world seemed to hit all at once.
Guests started reaching out immediately. I was flabbergasted. Never have I seen hospitality so mutually demonstrated as genuine care, so many virtual hugs when we needed them most. The same things we talk about delivering to guests during pre-service started to happen to us and amongst each other: communication, checking in, offering a hand, responding with urgency, pouring water and wine. There are regular texts and phone calls, memes and tags on social media, care packages left on doorsteps. We have staff from all over the world whose extended families are being affected. The team has been sharing their comfort food recipes. We are maintaining our familial bond outside the restaurant and are perhaps getting to know each other better than ever. The same is true for our guests. We are intentionally and tenderly building our community by looking after one another at a time when our movements are limited and our social lives constrained.
We have adapted as our city does. The human spirit is resilient. We are leaning in, forging deeper connections, and stronger roots. The period of grief, shock, and confusion has quickly pivoted towards looking forward to reopening. Some members of our team have called it the Hibernation, but I call it The Chrysalis Days: the time needed to slow down, to look within, to nurture ourselves before emerging fabulously, with new skills and new haircuts. We have so much to look forward to in the upcoming months: it will be our fifth patio season and the Lilia Beach concert series is on the horizon. I can already see it: the line starts wrapping around the dining room to the caffé at 4:15 PM. Guests anticipating focaccia, agnolotti, ribeye; some of them are already holding Aperol spritzes. Every member of the team is giddy, excited, a little nervous. How did we get so lucky? We know that these guests have waited 30 days or three years to enjoy our food, our wine, our service, all aligned on one special corner in Williamsburg. Our craft is alchemical: 35 uniformed people will completely charm the 300+ guests who will be joining us, through culinary skill and service sleight of hand. By showing up. By being present, attentive, and empathetic. By making eye contact and saying "I'm glad you are here."
The last few weeks have been a tremendous journey for all of us. We miss you. We can't wait to see you on the other side. To the future!
Biggest hugs,
Alicia