Family First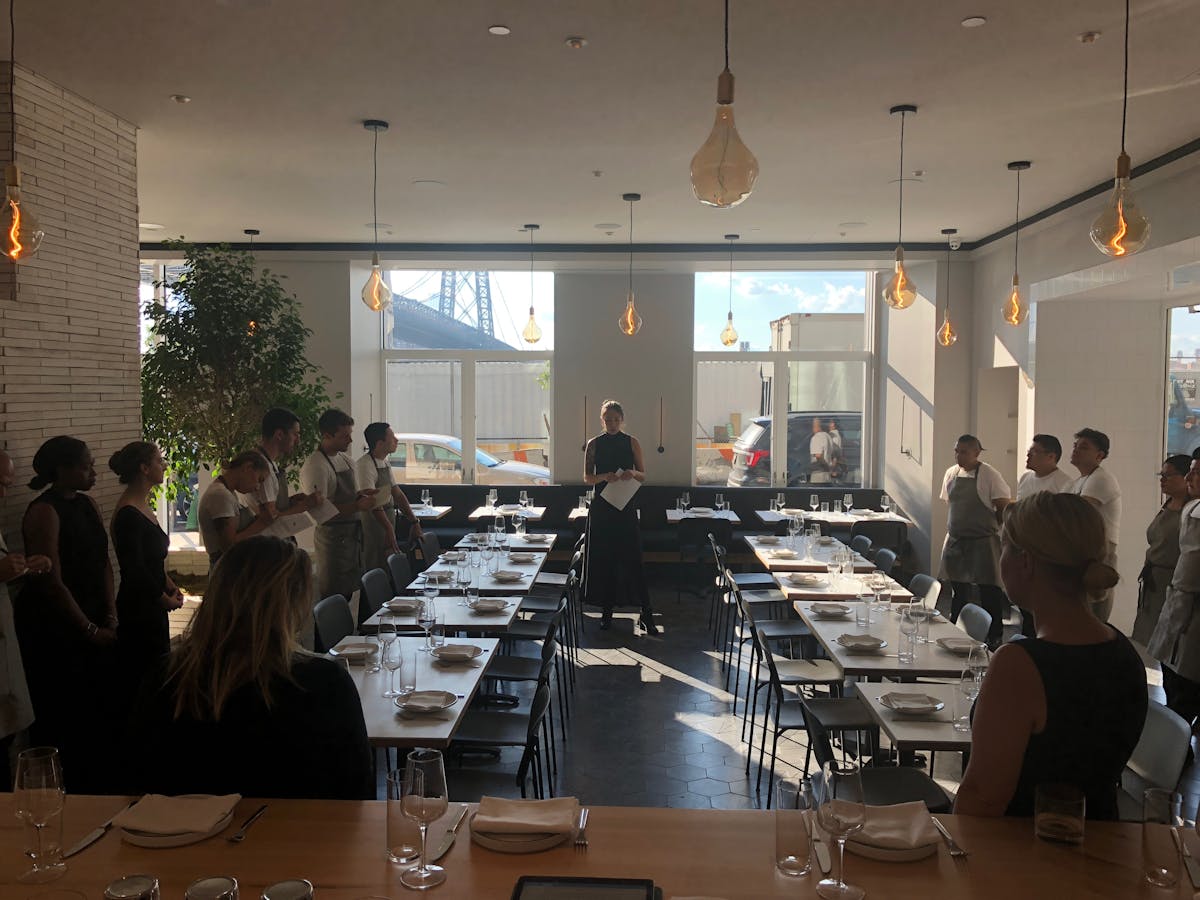 A few nights ago, the kitchen crews of our restaurants Lilia and Misi were cooking together. Some were sautéing. Others were roasting. Some others were making a salad.
It was just like old times.
Except for one thing: like many of you, we are closed for the foreseeable future, so the cooking took place in the safety of the cooks' own homes, but they were together thanks to the wonders of FaceTime.
That might seem like something out of a dystopian science fiction movie, but to us it was the most heartening thing in the world. Our people, finding a way to do what they love, and in the way they are used to doing it every night—together.
We in the restaurant business refer to each of our teams as a "family." The truth of that word has never been on more vivid display than in the last week. We have seen our people be there for each other, care for each other, and come through for us, even though we're technically their bosses, or will be again, as soon as we are able to reopen and rehire them.
The moment the crisis hit, like so many of you, we shifted—immediately—from a foodservice establishment to a support center for our people, providing crucial information for their unemployment forms, making sure they knew their healthcare costs would be covered through April, and encouraging them to have difficult conversations (like working out a short-term rent accommodation with their landlord.) Restaurant people are proud people. Can-do people. But sometimes you need to ask for help. We want them to know there's no shame in doing it, and the sooner it's done the better--and, as a result, they will have more peace of mind.
But even before this moment was upon us, we treated our employees like family, putting in place a culture and infrastructure that have been validated several times over in just the first weeks of this crisis. That's what we'd like to share with all of you, in case it might help right now, or when your doors are open again and you are better equipped to consider and implement new things.
Just as parents try to teach their children the value of a dollar, the importance of exercise, and the indispensability of coping mechanisms, our focus has been on mental, physical, and financial health ever since we began building our company GroveHouse.
Burn x Grovehouse our Health, Wellness, and Development program has evolved over the years to offer team members myriad resources: we provide all of our employees access to Calm, an app for mediation and inspiration, and to NEOU, a workout app. We host daily group fitness sessions as well as monthly friends of GH speaker series. We also make a personal finance coach available to them who can help set and achieve their goals, like paying off student loans faster. We are also trying to make sure that people have access to mental health support if they need it. Burn stresses the importance of investing in each other at Grovehouse.
Since the launch of The Grovehouse Family Fund last week we have raised $115,000 which speaks staggeringly to the wonderful bond we have built with so many. This community has conveyed that they miss us as much as we miss them and want us to be there when the ability to congregate and dine out returns. To further strengthen our recovery program and excite our people for when we reopen, we decided to allow everyone to share in our profits from reopening through the end of 2020. For us this was a no-brainer—it's what family does at a time of crisis.
When we became partners, our first order of business was to create a company we'd want to work at ourselves--one that fostered a culture that was good to its people, and took care of them. In a former job, one of us was responsible for a great many employees, but did not have the power to make important decisions. It was a terrible feeling to know the right thing to do, but not be able to do it. Now, we both love being responsible for people—it's the main thing that gets us out of bed in the morning, that makes us want to come to work, and that has given us purpose during this challenging time.
We often talk about how important the connection between restaurant and guest is, but the connection between those of us who come together within the four walls of a restaurant is also precious. What caught us off guard at this time, in the best way, is our team asking what they can do for us; the question itself was all we needed, because it reinforces that our restaurants are homes for our employees as much as they are homes-away-from home for our guests. We've always loved that at least once a night, a team member chooses to dine in our restaurants on a day off. We also love that more than five couples have met and fallen in love here, and are in deep, committed relationships. It's no exaggeration to say that new life will result from our restaurants. At this down moment in history, that's a hell of a thing to know.
Of course, we all want our restaurants open again so we can cook and serve others, as well as provide for ourselves and our teams. But as much as all that, we want to see our family again. We miss them and can't wait for them to come back home.

Be safe,
Sean Feeney and Missy Robbins
Originally published by The Welcome Conference.