Cooking at Home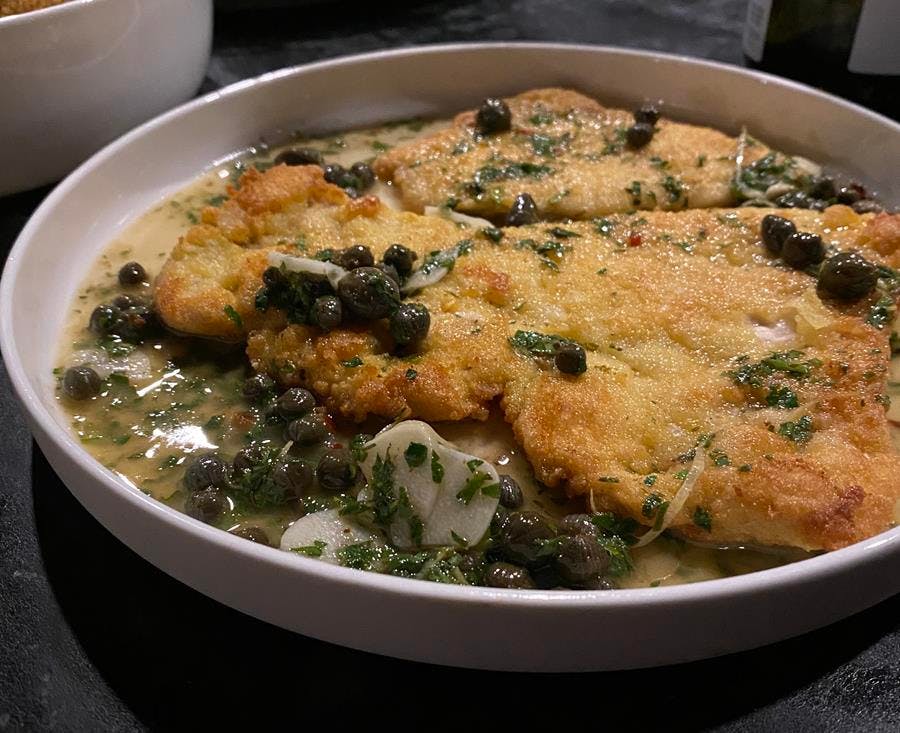 Pecorino + Semolina crusted chicken, capers, garlic, lemon
Photo credit: Missy Robbins
In our business, and as a chef, cooking at home can be a true luxury. I often cook on Sundays, my day off, but making three meals a day every day is not something I have done in many years, since opening Lilia in 2016.

While it is challenging to have the restaurants closed on so many levels, I am trying to stay positive and keep productive. I have found pure happiness in cooking in a way that is very different from how I create at Misi and Lilia. I have headspace and time that I don't usually have and I am finally working on projects that I've wanted to do for a long time, whether it's baking (which for those of you who know me, know that I don't do), finally using the sourdough starter that's been in our home for months untouched except weekly feedings to keep it alive, or putting the finishing touches on the last of the recipes to be included in my next book. Next up is tackling the croissant, which if I nail, will make an appearance at Lilia Caffé.

You can take the chef out of a restaurant, but some habits will live on at home. I find myself neatly organizing my mise en place (ingredient prep) in little dishes before hitting the stove and writing menus for the week knowing what I have in the fridge, what we have ordered for delivery or pick-up, and shockingly, what is in my freezer (which usually sits empty except for ice, ice cream, and a super-chilled martini). I wonder how every dish I make at home will be integrated or not into the restaurants when we reopen. That exercise has been a great source of inspiration. Now, after months of practice, should orecchiette finally go on the menu at Misi? Do 'nduja meatballs have a place anywhere, or is there an interpretation of those flavors that can go into a new spaghetti dish? Even something as simple as a little gem salad with pine nuts and pecorino has me thinking.

Here are some menu highlights from last week from my home, in no particular order. I hope they inspire cooking ideas for you and your family.
Pan-Roasted Strip Steak, serrano and cilantro chimichurri, smashed crispy potatoes

Ribolitta, Parmigiano, Paulo Bea olive oil

Pozole Rojo

Smoked Trout Board, pickled ramps and carrots, soft boiled eggs, dill sour cream

Spaghetti, spicy cauliflower, anchovy, garlic, parsley

Spinach and Farro salad, Fiore Sardo cheese

'Nduja and Beef Meatballs, simple sauce

Raw Fennel Salad, red onion, apple, pecorino, pine nuts

Pecorino + Semolina crusted chicken, capers, garlic, lemon

Whole Roasted Rabbit, juniper, citrus, herbs

Tuscan Kale Panzanella

Flourless Chocolate Cookies

Crème Fraiche Coffee Cake

Talia's housemade Tartine Bread, butter, sea salt
— MR