braised osso buco, fennel soffritto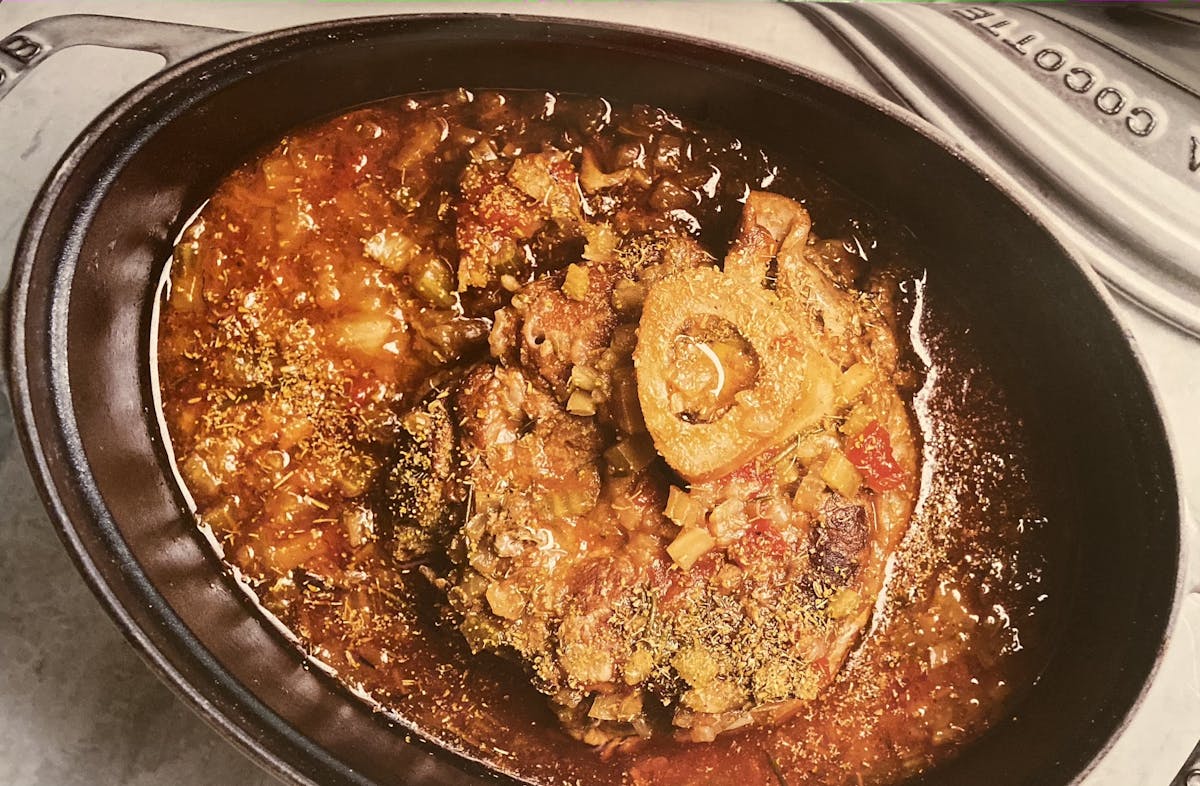 serves 4
This dish has been a staple at my restaurants for a long time, but it was only during my time off that I actually had the time to make it at home for friends and family. This dish is what I turn to first when I'm in the mood for something hearty and warming. As is evident from this book and my restaurant, I have a real fondness for fennel and this dish celebrates it in many forms. The braising liquid and the fennel soffritto combine to become the sauce. It is so satisfying and delicious that I never feel like it needs anything else, but feel free to serve this with creamy polenta, braised greens, or even chicken fat potatoes.
4 pieces of center cut veal shanks, 2-inches thick, tied with butcher twine
kosher salt
½ cup olive oil
3 large bulbs fennel, cut into 1⁄4-inch dice, fronds reserved for plating
2 large carrots, cut into 1⁄4-inch dice
1 large onion, cut into 1⁄4-inch dice
4 garlic cloves, sliced
½ bottle dry white wine
1 (28-ounce can) San Marzano tomatoes
1 tablespoon fennel seeds, ground
½ tablespoon chili flakes
2 sprigs rosemary
5 sprigs thyme
fennel pollen
1. Heavily salt the veal shanks on both sides and set aside for at least 1 hour. If you can do this in the
fridge overnight, even better.
2. Place a large, heavy-bottomed pot over medium-high heat. Heat 1⁄4 cup olive oil in the pot, and
once rippling, add the shanks, searing on all sides until golden brown, about 3–5 minutes per side.
Remove from the pan and set aside.
3. Scrape up and discard any burnt pieces (if the pan is too brown, change to a new one). Add the
remaining 1⁄4 cup olive oil along with the diced fennel, carrots, and onions to the pot.
4. After 3 minutes, add the sliced garlic. Continue cooking, stirring occasionally, until the soffritto is
tender and slightly golden, another 5–8 minutes.
5. Return the veal to the pot and add the wine. Cook down until the wine is reduced by half. Transfer
the tomatoes to a bowl and crush by hand. Add the tomatoes to the pot along with the ground
fennel seeds and chili flakes.
6. Add enough water so that the shanks are covered by almost 1 inch. Cover and turn the heat down
to low, cooking on the stovetop until the meat is completely tender and falling off the bone, about
11⁄2–2 hours. (Alternatively, you can place it in a 325oF oven to cook.) In the last 45 minutes of
cooking, add the rosemary and thyme. (Adding them late allows the herbs to infuse without
overpowering.)
7. Remove the shanks from the pot and turn the heat up to reduce the sauce slightly if is too brothy.
You don't want it too thick as it will taste tacky and sticky, but you want it to have a little body.
8. Plate the shanks individually in bowls or all together on a platter. Top with the sauce and soffritto
and garnish with lots of fennel pollen and chopped fennel fronds.
— From Breakfast, Lunch, Dinner...Life! Recipes and Adventures from My Home Kitchen by Missy Robbins
with Carrie King/Rizzoli Publishing